Journal
#12 Content is as diverse as its makers.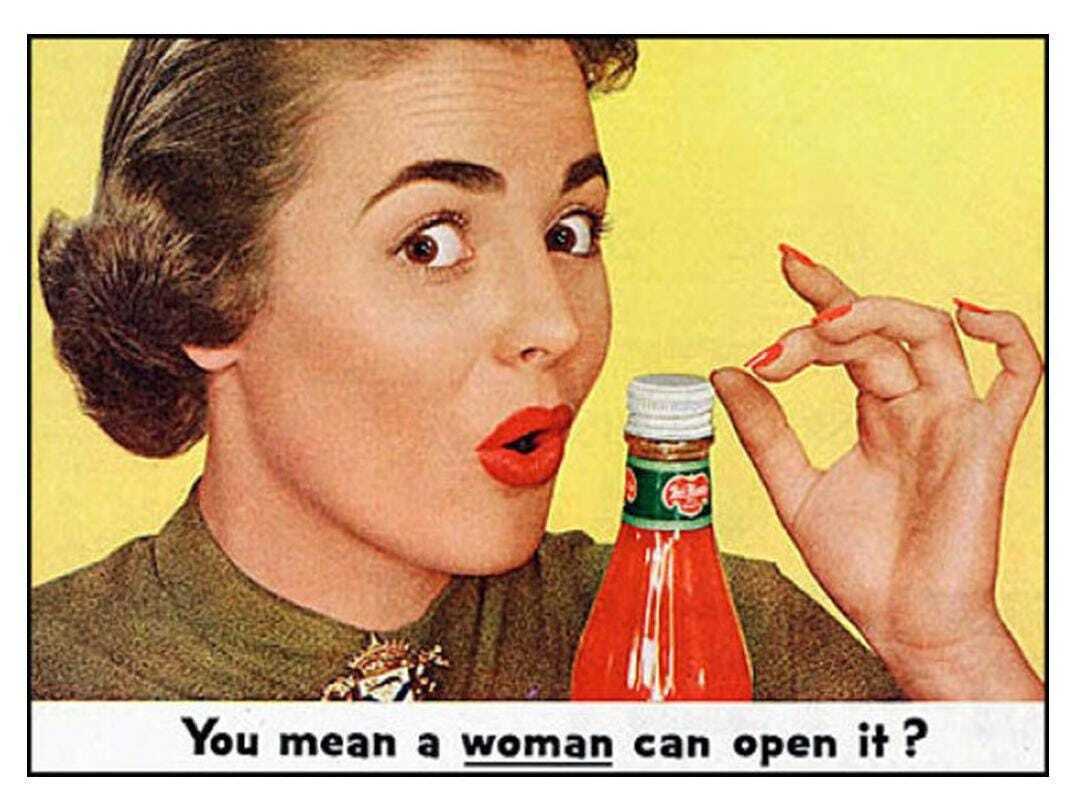 Note: This is the 12th post of the book after the introduction. If you're new to the book, start with the introduction. Or visit the full table of contents.
Unless you're a character straight out of Mad Men, a hangover from the era of bygone big advertising (they still be kicking around you know) content should represent diverse peoples, it should be inclusive. Content has come a long way from the days when casual sexism and every other ism was the norm. A time when rich, white ad men were defining the message from the top of the pile, with their privileged world-view regurgitating ad's that only chimed with a narrow (minded) few. The end product clearly represents the lack of diversity of thinking that went into it. It is a mirror held up to the mind of the maker.
The fact that we've come a long way means we thankfully see less of the singular, insular, sheltered thought processes that resulted in the example above and the many documented like it. We're by no means clear of the problem, it still lurks around every corner. To be free and clear of it would mean that we lived in an equal world, where diversity was no-longer a debate. As long as it is, there's still a problem. See exhibit A below.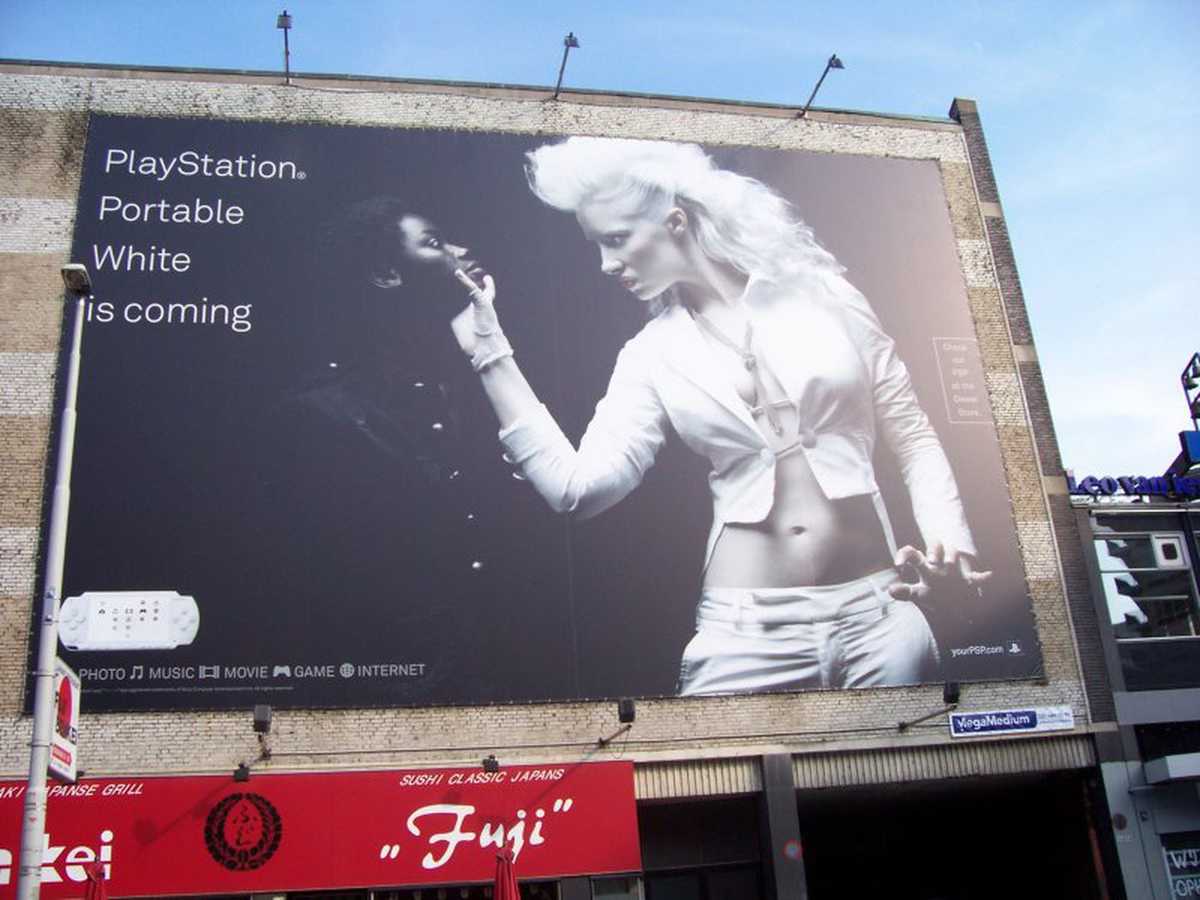 WTF?! No Sony. Just no.
What has this to do with purpose? Or business design? A hella lot. The underlying principle of everything we do at Po3 is there is no change without understanding. There has to be a consensus through clear dialogue to begin. To begin what? To begin anything, from the definition of what your purpose is, through to the clear and regular communication needed to bring people along the way as you grow. You have to be inclusive, treating everyone as an equal, with individual valid voices and experiences to contribute. You have to understand who you're talking to and what their needs are, you have to have empathy. You have to listen.
Good communication fosters collaboration, collaboration brings diverse thoughts and opinions to the table, and this is the only way to solve complex problems. Bad communication is alienating, and when we feel alienated we can become fearful. We've seen it so many times when executive leaders within the same business, each experts in their own right, fail to collaborate because they're semantically challenged, they don't understand one another's specialisms or perspectives or are fearful of a new technology or way of working which they don't have a working knowledge of. They don't get: digital, data, innovation and so they reject it. You've got to remove those barriers by creating understanding.
When external messaging goes wrong — there's a whole PR industry devoted to crisis management. Why don't businesses treat their internal messaging the same? Because damage in brand reputation is public, it costs money and everyone can see it. Bad internal messaging creates a loss of purpose, siloed working, toxic cultures and plummeting productivity. It's harder to measure, but just as costly, most companies are just blind to it. In fact many leaders are wired to ignore it. Research has shown that there's a direct inverse relationship between power and empathy.
"You can easily judge the character of a man by how he treats those who can do nothing for him."

— Malcolm S. Forbes
How Nike got burned
Talking brand damage Nike is one of the most public examples there ever was, of a leader not listening. In her book 'Reimagining Capitalism' Rebecca Henderson does an extensive case study on Nike and how sustainability rescued the brand after a near cataclysmic messaging mismanagement. This is a TLDR version. The "Just Do It" strap or the Nike swoosh are instantly recognisable to 99% of people. Even back in 1992 Nike was generating 3.4 Billion in sales and Phil Knight the co-founder of Nike was bossing brand. But even he, with his mastery of brand advertising was about to get schooled. And a harsh lesson it was. In 1992, the journalist and worker's rights advocate Jeffrey Ballinger wrote an article for Harpers Magazine. It highlighted the salary of Sadisah, a young Indonesian worker in one of the South Korean factories where Nike's shoes were made.
"Sadisah's net earnings for a month of labor… Six days a week, ten and a half hours per day, for a paycheck equivalent to: $37.46"

— Jeffrey Ballinger — Harpers Magazine
It would have taken Sadisah 44,492 years to earn the equivalent of Nike ambassador Michael Jordan's multi year $20M endorsement. Not good. Not good at all. The revelation sparked a massive backlash and a series of reports by: CBS, Rolling Stone, New York Times, the Economist and others. In 1996 Life Magazine published a devastating exposé on slave labour practices in the supply chain. Summary was, Nike were employing slaves. Boycotts of products, protest rallies and public outcry followed. In 1997 — Michael Moore, interviewed Knight for his film documentary "The Big One" to get his take:
"MM — 12 year old's working in Indonesian factories, that's OK with you?

Knight — They're not 12 year old's working in factories, the minimum age is 14

MM — How about 14 then, does that bother you?

Knight — No"
1998 — in the first quarter Nike profits collapsed by 35%
1998 — Knight announced a new CSR agenda in response to calls for action. Including: raising minimum wage, independent monitors of working conditions, strengthening health, environmental and safety measures and funding independent research into conditions in the supply chain.
2020 — Nike rated the most sustainable apparel company in the world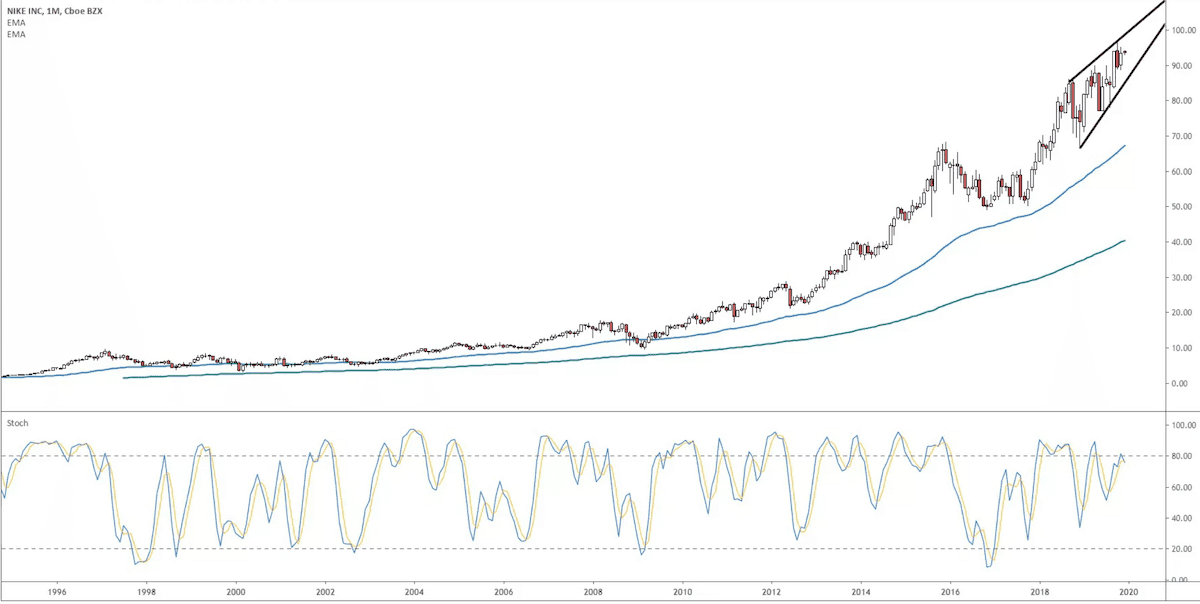 Nike stock from 1996 to 2020
Phil Knight took five years to recognise that the problem of child labour in the supply chain was his problem. Even then, though publicly he introduced a raft of CSR policies to message that he was serious, if you check out the 1998 annual report, the labour practices are only briefly mentioned. And Phil's even slightly dismissive that it could be the cause in the 35% profits drop. Whatever his feeling on the matter, since Nike tackled the problem and public opinion head on, the company has continued on it's insane trajectory.
"It takes 20 years to build a reputation and five minutes to ruin it. If you think about that, you'll do things differently."

— Warren Buffet
The new normal
Tim Berners-Lee is basically the evolutionary architect of communication as we now know it. An ex Googler, Global Tech Lead — Mark Masterson, once did a talk at our conference #twbconf (Together We're Better) on how a shift from broadcast to networked communications, facilitated by the web, is fundamentally re-shaping our economy. I can't do his talk justice in this post but we have a copy of the video content and will put it live on togetherwerebetter.org.uk when we re-launch in the next couple of months. This is our events and conference site. If you want to keep up to date with what we're up to on the events side, check in with @TWBtweets and keep an eye out for our "Hello world" rebirth. Essentially twb is all about solving systemic problems through private, public and third sector collaboration. The BIG stuff. This was a shameless plug for the rebirth of twb. We're quite excited. Thankyou.
The new normal made possible by Tim's genius, is distributed communications across a diverse range of channels and mediums; Discord, TikTok, WhatsApp, Zoom, Clubhouse, the veritably retro, but still sustaining Twitter, team Wikis, Slack, notion… The modes of transport for communications are many. It's a complex world to manage. Add to this that people choose to communicate in the way that works for them. Prose vs lists, written vs visual, voice note vs text. It's more than a little ironic (never more so than in this post) that these book chapters are often written in a day, with far less structure and planning than they should have, resulting in not so much an instruction manual but something more akin to a two page spread in a broadsheet. If broadsheets had funny gifs and rad videos.
Why? Because it's good content, that's why 🤷
We get it, we can be more concise and some posts — instructional ones will be. Probably when someone else is writing them or there's more time to make them (takes me more time to write concisely). What the current complexity of communications channels and mediums means though, is that as ever, you need principles to guide you in designing and delivering your message. Focus on the message.
Landing a punch
All of the five steps we set out to keeping your business nimble in #11 need you to communicate well, to create clear, transparent messaging. There are three key things you need to keep mind when you're designing your message:
Keep it simple
Keep it human
Keep it interesting
Seems obvious right? And yes, there's a whole world of information on messaging, copywriting and content design. We're not saying the above is the final word. We're saying if these are your guiding principles, you stand a greater chance of success if you stick to them. If you're clucking for content design resources though, here's some brilliant ones for starters:
So, how do we know; keep it simple, keep it human and keep it interesting are the biggest and the baddest things you need? Well, you could say it's slightly subjective — but based on extensive experience and learning. We've spent a lot of time teaching executive committees of the world's largest financial institutions about seemingly very complex subjects. Things like: Data Science, Innovation, Blockchain, Cyber. Empowered, generally white, male and middle-aged executives are also not always the easiest of crowds. Add to this we're not fully fledged subject matter experts in all of the above technologies either, it takes years to obtain a mastery of each one. So we have to be compelling in the delivery of our message.
If you're interested we wrote about the jack of all trades, mastery of none conundrum in #9 Design a kickass team. Essentially by the time an expert has been spat out of a traditional education route, their craft has moved on. It's the nature of fast evolving technology. What it means is that the future of solving complex problems relies on being able to understand the key underlying principles of new emerging tech and ways of working, you don't need mastery, you need to be a facilitator of discussion and collaboration. This understanding of key principles means you can have informed conversations with experts. Only that way can you open a dialogue and get a holistic view of all the angles, to guide decision making.
Before bringing teams together to learn, we have to design the content of the talk, workshop or course we're running. We think about three key things when we do this;
What are the key ideas of the subject we want to convey (keep it simple)
What stories can we tell that are informative and relatable to support (keep it human)
What hands on activities land these key principles (keep it interesting)
We've taught hundreds of people, executive teams and front line employees, experts and people with zero subject knowledge. The feedback has always been overwhelmingly positive (even when the tech crashes and you have to ad lib) when we use this approach to designing our content. What we've learnt over time, is it can never be boring, luckily people have also fed back that it isn't. That's what the above three things do, they make the subject matter and the engagement with it fun. Fun could easily be swapped out with interesting as a design principle, but the truth is, what you find stimulating or engaging isn't always fun. When you get into the dynamics of changing organisations for instance — it can't always be fun. Often it's in the uncomfortable spaces and conversations that you find out and learn the most. But when it's relevant to you and you're learning useful stuff, it is always interesting.
Messaging done right
As an example of great content, here's a video made by our new friends at Rubber Republic, showing what it means to really understand your audience and do some truth telling in a: simple, human and fun way.
While we're on the subject of tampons and how to tailor your message, our other friends, Alicja Glowcika and Emily Franzini are doing some user research into how to create a greener and easier future when it comes to sanitary products for periods and postnatal bleeding.
If you want to help (you know you do), you can! By filling out their fleetingly brief survey
Ta x
Previous
#11 How to keep your business nimble. 5 steps.
Next
#13 The world eaters are architecting the new world order
Sign up for purpose
We're writing a book, a 'how-to' for the design and delivery of purpose driven, successful businesses.
Then we're giving it away, so anyone can use it.